[DJ Mix] BP Sessions 'Hazardous'
Last Updated on Sunday, 21 February 2010 06:05 Written by SiMuL Thursday, 4 December 2008 02:38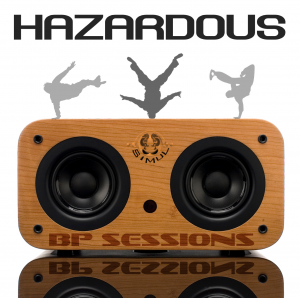 CAUTION: extreme beats and low frequencies, may be hazardous to your sneakers.
Back with another release for the BP Sessions series.  'Hazardous' is probably my craziest to date.  Hard, almost scary breaks, heavy laden with subwoofer killin' bass lines and dopeass hooks; sure to move even the most timid dancer!!
I tried to get this release out before Halloween, but only had about half of it complete before I ran out of compatible tracks.  So it sat on the back burner until I came across the right songs for the job!  (good things do come to those who wait–so cliche; so true!)  So, enjoy this for the holiday season!!
Genre: Breaks
Date: December 2008
Download/Play: BP Sessions - Hazardous (2266)
CUE File (needed to burn audio CD with individual tracks): .cue (1580)

Track Listing:
01) The Funk Lab – Been There Done That
02) Aquasky & Masterblaster – Perception (Autobots Remix)
03) Bassbin Twins – Woppa
04) MC Flipside – The Rubdown (D-Lerium & Faze)
05) Devine & Doc Nasty – Rok Da Diskotek
06) Dee Mond – If You Can't See The Point (Squatter Edit)
07) Infiniti – Make The World A Bitter Place (Remastered Collectors Edition)
08) Tribalishious – Dirty Mind (Breakin' That Booty Remix)
09) Badaszewski – Future Dictator (Cursor Miner Remix)
10) Jon Cates – Harpo (Si Begg Rocksteady Remix)
11) Stanton Warriors – Get Wild feat. Big Daddy Kane (Bassbin Twins Remix)
12) Attack & Chunk – Down Low Radio (John Cody Remix)
13) MC Flipside – Have a Nice Day (Agent K & Bella Remix)
14) Afghan Headspin – Bang Spanner (Vent Remix)
15) The Funk Lab – Swept Away Remaster
1 Comment