[DJ Mix] BP Sessions 'Hazardous'
Last Updated on Sunday, 21 February 2010 06:05 Written by SiMuL Thursday, 4 December 2008 02:38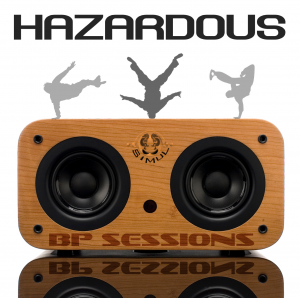 CAUTION: extreme beats and low frequencies, may be hazardous to your sneakers.
Back with another release for the BP Sessions series.  'Hazardous' is probably my craziest to date.  Hard, almost scary breaks, heavy laden with subwoofer killin' bass lines and dopeass hooks; sure to move even the most timid dancer!!
I tried to get this release out before Halloween, but only had about half of it complete before I ran out of compatible tracks.  So it sat on the back burner until I came across the right songs for the job!  (good things do come to those who wait–so cliche; so true!)  So, enjoy this for the holiday season!!
Genre: Breaks
Date: December 2008
Download/Play: BP Sessions - Hazardous (2266)
CUE File (needed to burn audio CD with individual tracks): .cue (1580)
Learn More
Archives
Testimonials
In an age where we are inundated by soulless entertainment, in every aspect, it seems that music has had the biggest loss. It has become more and more difficult to find Truth in music, to find knowledge, spiritual strength, and emotion evoking sounds.
SiMuL is just the Truth that our music needs, breathing much needed Universal Mana into his work.
SiMuL uses his mind, body, and spirit as a channel and allows just such Truth to be expressed through his music and mixes. It is in his music that I hear a real message. A message wrapped in an envelope of sound that delivers it while driving you through a landscape of human emotions. His music calls deep inside and allows our own truth, emotion, and spirit to shine through. His particular sound creates sacred space which allows the body to become a vessel through dance and lets the experience of universal energy flow outward, and inward, to all who are open to its call.
SiMuL contains a rare light that, when shined, allows all of us to connect as One.
To put it simply, SiMuL has a message of Truth that brings music back to its primal purpose of evoking our spirits and making them move.
Blake W. Johnson
Photography